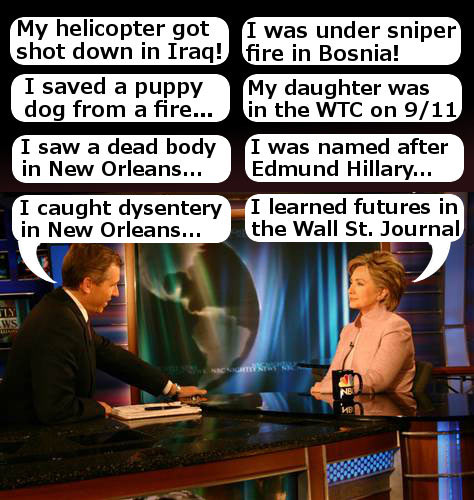 PUBLIC FIGURES LIKE SIR HILLARY CLINTON AND NBC MOUTHPIECE BRIAN WILLIAMS HAVE A PERFECT RIGHT TO LIE EMBELLISH THEIR ADVENTURES ON THE WORLD STAGE. AFTER ALL THE TALL TALES STORIES THEY REPORT ARE ESSENTIAL AND NECESSARY TO THEIR CONTINUED POPULARITY
.
POPULARITY THEY DEPEND ON FOR VIEWERS IN BRIAN'S CASE AND VOTERS IN HILLARY'S CASE.
Code for Facebook, Blogs, Websites and Myspace.
Just copy and paste into your site.